EDGE and Allianz partner to develop EDGE Stadium Amsterdam
The Forum building in Amsterdam will be redeveloped by EDGE through another partnership with Allianz Real Estate. It will be transformed into a premium, innovative and healthy office space in line with today's tenant demands, while adding another 10,000 m² to the existing 19,000 m2 of office space. EDGE Stadium will be located opposite EDGE Olympic Amsterdam and will represent another example of sustainable redevelopment in the EDGE portfolio. 
An area with ambitious goals
EDGE Stadium, located in "The Olympic Area" in Amsterdam with easy access to and from the city centre, aims to offer its tenants and users the highest environmental and innovative standards to date in the market. In alignment with EDGE and Allianz Real Estate's values around sustainability and wellbeing, EDGE Stadium is set to achieve BREEAM Excellent and WELL Core & Shell Gold certifications and will have a targeted reduced energy consumption of approximately 70%. In addition, it aims to become the first R2S (Ready2Services) two stars certified building in the Netherlands, a certificate that represents the smart connectivity of the building. EDGE Stadium plans to obtain the certificate by incorporating the latest in smart technology, including EDGE's own platform – EDGE Next – to optimise the office building's performance, and to make it smarter, healthier, and more sustainable. The platform uses multiple sensors and data sources to not only gather information, but also to deliver valuable and actionable insights to enable buildings, companies and people to thrive. Tenants can also make use of a building app, which enables users to efficiently control basic features of their work environment, such as light and temperature. The incorporation of innovation and digitalization into the building is in line with Allianz Real Estate's strong focus in these key areas, and reinforces an essential part of the firm's investment strategy.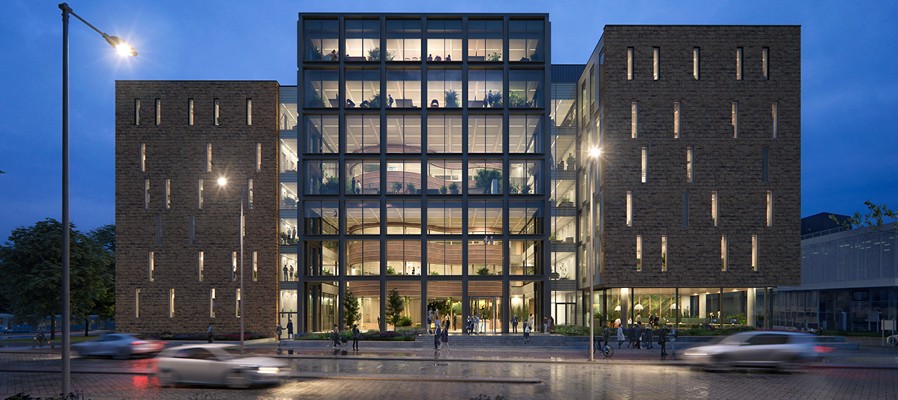 Impression of the redeveloped Forum building in Amsterdam
"The redevelopment of the Forum office, where we will introduce cutting-edge technologies into one of our existing buildings, exemplifies our innovative spirit and our approach to future-proofing our assets," said Alexander Gebauer, CEO of Allianz Real Estate for Western Europe. "Active asset management is a key part of how we add value to properties on a long-term basis, particularly with regards to the latest environmental standards and innovative technologies. The EDGE Stadium building is no exception, and we are delighted to further build the relationship we have with our long-time partner EDGE."
New features for an ideal workspace
Built 20 years ago, the award-winning Forum building maintains a quality and appeal still largely compatible with today's standards. As such, and in keeping with EDGE and Allianz Real Estate's views on sustainability, many features of the existing building will be reused and upcycled. The 29.000 m2 redevelopment will include the latest features in smart technology and will meet the highest standards for sustainability. The building's existing atrium will also be extended by creating a wooden hybrid top-up, which will create a spacious area to integrate the EDGE Workspace concept on the ground floor. Furthermore, the redevelopment will include the incorporation of open spaces, biophilic design and a roof terrace. Tenants and users will be encouraged to meet, connect and move around the building throughout the large floorplates and attractive staircases. Using EDGE Next to monitor and optimize conditions and performance, EDGE Stadium will be a cutting-edge workplace that truly prioritizes health and well-being for all.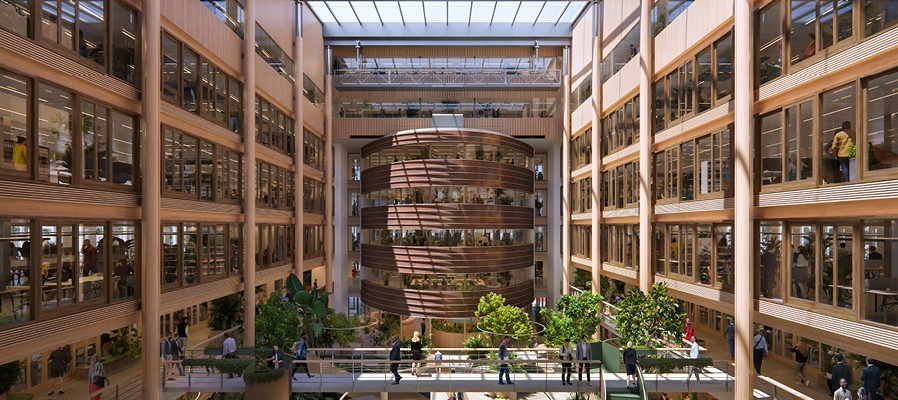 Impression of the redeveloped Forum building in Amsterdam
"We are delighted to be able to continue the cooperation between Allianz Real Estate and EDGE. It proves that a strategic portfolio approach aiming at highly sustainable, healthy and smart buildings is successful. EDGE Stadium will be our next generation smart redevelopment in which all the aspects from its neighbouring EDGE Olympic are improved. We are thereby able to provide tenants with the ideal working environment." – Coen van Oostrom, Founder & CEO of EDGE.